Delegasi Unhan RI Ikuti Penutupan Workshop Track II NADI ASEAN Bulan Juli 2022
Jakarta – Delegasi Universitas Pertahanan RI (Unhan RI), hadir pada kegiatan hari kedua, Pertemuan Ke-15 Track II Network of ASEAN Defence and Security Institutions (NADI), Workshop dengan tema "Strengthening Confidence Building Measures in The Region". Delegasi Unhan RI dipimpin oleh Dosen Diplomasi Pertahanan Unhan RI, Prof. Dr. Anak Agung Banyu Perwita, M.A., Ph.D., didampingi, Sesprodi Manajemen Pertahanan Fakultas Manajemen Pertahanan (MP FMP) Unhan RI, Kolonel Tek Dr.Ir. Hikmat Zakky Almubaroq, S.Pd., M.Si., dan Kapus Relevansi dan Manajemen Pendidikan LPPPM Unhan RI Kolonel (KH/W) Roselina Peni K., M.Si (Han)., mengikuti langsung secara online, dari lantai 8, Kampus Pascasarjana Unhan RI, Jalan Salemba Raya No.14, Jakarta Pusat. Kamis (21/07/2022).
Agenda kegiatan pada hari kedua ini, adalah penyusunan laporan ketua penyelenggara. Diawali dengan penyampaian berbagai rekomendasi hasil paparan perwakilan negara anggota ASEAN, pada pelaksanaan workshop hari pertama tentang upaya penguatan rasa saling percaya (confidence building measure, CBM) dilingkugan regional.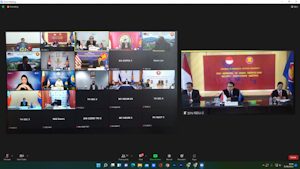 Pada kesempatan ini delegasi Unhan RI, yang diwakili oleh Kolonel Tek Dr Hikmat Zakky Almubaroq, S.Pd., M.Si., menggarisbawahi bahwa komunikasi adalah pintu gerbang yang paling penting untuk membangun kepercayaan antar negara dan individu. Upaya ini diwujudkan melalui menerapkan dan memelihara komunikasi yang transparansi terpadu dan efektif, dilengkapi data aktual yang real-time untuk mengintegrasikan kondisi setiap negara.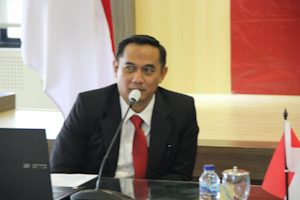 ASEAN harus membuka peluang untuk integrasi untuk membangun kepercayaan dan menjaga stabilitas keamanan regional. Transparansi harus tetap menjaga batas-batas di setiap negara, sehingga suatu negara dapat menahan informasi yang dianggap penting.
Dari hasil penyusunan laporan ketua pelaksana workshop ini diperoleh beberapa rekomendasi, yaitu pertama NADI merekomendasikan lebih banyak interaksi militer-militer dan militer-sipil untuk mempromosikan pertukaran gagasan tentang masalah keamanan regional dan CBMS yang ada, serta memperkuat pertukaran pendidikan dan pelatihan yang diselenggarakan oleh ADMM. Kedua, harus ada interaksi dan sinergi yang lebih besar antara ADMM dan AMM, dengan melakukan diskusi rutin antara pejabat untuk mengkoordinasikan posisi dengan baik mengenai masalah keamanan regional. Ketiga NADI mencari pertimbangan ADMM untuk mengadakan kelompok studi untuk mengeksplorasi dan merekomendasikan protokol regional yang sesuai dalam pengoperasian Unmanned systems di perairan regional dan wilayah udara.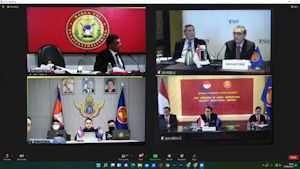 Mengakhiri kegiatan workshop ini, Executive Deputy Chairman, RSIS, selaku ketua penyelenggara, Dutabesar Ong Keng Yong, menyampaikan ucapan terima dan mengapresiasi berbagai masukan dari seluruh delegasi, sebagai upaya untuk membangun kawasan yang damai dan stabil untuk kemakmuran bersama.
Pada kesempatan ini ketua penyelenggara menyampaikan event workshop NADI berikutnya akan dilaksanakan pada tanggal 5 s.d 7 September 2022, dengan pembahasan mengenai "Cyber Threats and Its Impacts to National and Regional Security in Southeast Asia", dengan Host penyelenggara kegiatan Unhan RI.
(Humas Unhan RI)